P7 Wenwu FDA Registered 3ply Disposable Children Face Masks BFE 99% Filter
P7 Wenwu FDA Registered 3ply Disposable Children Face Masks BFE 99% Filter
Buy in bulk and get a discount!
The more you buy, the more you save!
1. 50 Pcs Latex Free Disposable Premium Quality tested face masks per box for children

2. Premium Filter protects against 99% of particles larger then 0.1 μm, BFE filter Efficiency = 99%.

3. These masks are manufactured by a FDA Registered Factory. See attached pictures.

4. These masks should be disposed of after each use.

Contact us thru email if you are looking for large order and whole sale price. We have a large US based warehouse with ready to go stock.
Price is for 5 boxes.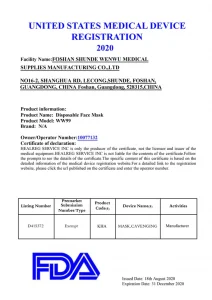 Please contact us for shipping cost. Free pick up from our warehouse near Philadelphia, Pennsylvania.